Why We Pray the Office
"Office" comes from "officium" which means "duty"
The following quotes are taken from the General Instruction for the Liturgy of the Hours and they sum up why the Office is not something we Lay Carmelites have to do but something we want to do.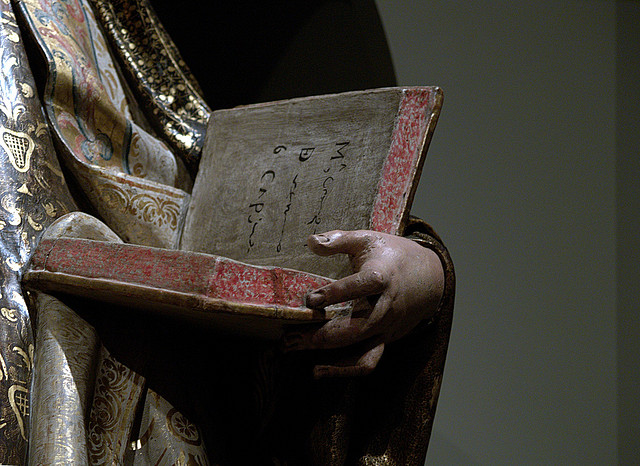 Public and common prayer by the people of God is rightly considered to be among the primary duties of the Church.
---
By ancient Christian tradition what distinguishes the liturgy of the hours from other liturgical services is that it consecrates to God the whole cycle of the day and the night.
---
The purpose of the liturgy of the hours is to sanctify the day and the whole range of human activity.
---
To the different hours of the day the liturgy of the hours extends the praise and thanksgiving, the memorial of the mysteries of salvation, the petitions and the foretaste of heavenly glory that are present in the eucharistic mystery, "the center and high point in the whole life of the Christian community."
---
In the liturgy of the hours the Church exercises the priestly office of its Head and offers to God "without ceasing" a sacrifice of praise, that is, a tribute of lips acknowledging his name. This prayer is "the voice of a bride addressing her bridegroom; it is the very prayer that Christ himself, together with his Body, addresses to the Father." "All who render this service are not only fulfilling a duty of the Church, but also are sharing in the greatest honor of Christ's Bride for by offering these praises to God they are standing before God's throne in the name of the Church, their Mother."
---
When the Church offers praise to God in the liturgy of the hours, it unites itself with that hymn of praise sung throughout all ages in the halls of heaven; it also receives a foretaste of the song of praise in heaven, described by John in the Book of Revelation, the song sung continually before the throne of God and of the Lamb. Our close union with the Church in heaven is given effective voice "when we all, from every tribe and tongue and people and nation redeemed by Christ's blood (see Rv 5:9) and gathered together into the one Church, glorify the triune God with one hymn of praise."
---
Finally, it is of great advantage for the family, the domestic sanctuary of the Church, not only to pray together to God but also to celebrate some parts of the liturgy of the hours as occasion offers, in order to enter more deeply into the life of the Church.
---
Morning prayer and evening prayer are therefore to be accorded the highest importance as the prayer of the Christian community. Their public or communal celebration should be encouraged, especially in the case of those who live in community. Indeed, the recitation of these hours should be recommended also to individual members of the faithful unable to take part in a celebration in common.